UniKidz education partners
Education and childcare: making it great together
We work closely with our education partners. As a childcare partner, we are involved in shaping the concept from the very beginning.
AMOS
Basisschool de Catamaran 
Basisschool de Odyssee
Jenaplanschool Atlantis 
Basisschool de Neptunus 
Basisschool de Poseidon
Basisschool de Kinderboom 
Link to the website from AMOS
Amstelland
Amstelland International School
Taalschool Amstelland
Link to the website from AIS
Amstelwijs
Nieuwbouwproject Amstelveen
Link to the website from Amstelwijs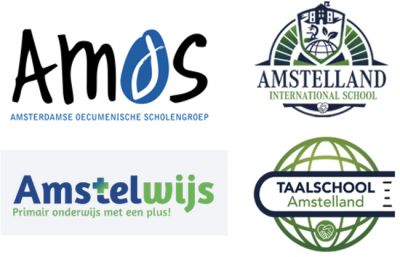 KNAP! is our Scoolz partner for pupils in primary and secondary education
KNAP! Leren & Meer is a professional organization with an enthusiastic, ambitious, and driven team. We are big fans of teenagers and children and are inspired by their unique view of the world. In addition to homework support, extra lessons, and training sessions, we support schools and other institutions by offering tailor-made solutions.  
What can you expect from the assistance of KNAP!?
Individual approach and a positive mindset
A positive mindset and an open attitude to learning are important for good learning performance.We always use the possibilities and potential of the students as our starting point. We are enthusiastic, help the students find solutions, give constructive feedback, and consider mistakes to be learning moments. In addition, as we believe in the importance of personal attention, the programme is always tailored to the pace and level of the student.
Quality, Knowledge, and Expertise
We believe that quality is paramount. We ensure that the quality of the services offered always meets our high standards. We have the knowledge and experience to support every student optimally, and our staff are trained to provide the right support.
Openness and Communication
We love openness and honesty! If things are going well, that's great! If things are not going as expected, then we'll let you know too. Through open communication with all those involved, we ensure optimal support for all students together.